USA vs. Slovakia Game Recap
Tweet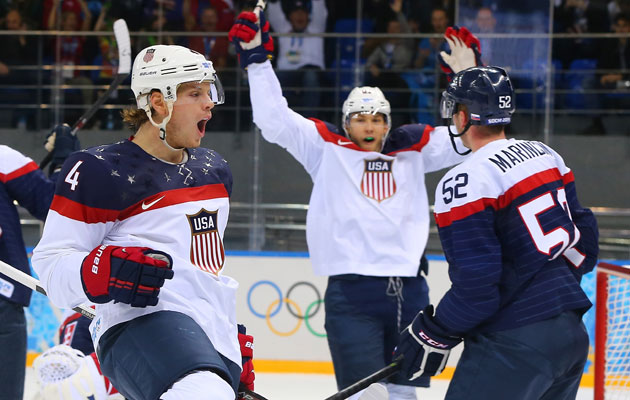 Article written by Ryan Hale - Community Contributor
Team USA Cruises to Victory
Today finally brought the day many USA hockey fans had been waiting for, the real beginning to the Olympics. After agonizing for almost a full weeks worth of waiting through other sports and highlights of other people getting medals it was finally time for team USA men's team to take the ice in a battle against Slovakia.
Surprisingly there wasn't much of a settling in period like we saw in the Sweden v. Czech game yesterday. Both of these teams we're obviously ready to hit the ice skating. It went back and forth for the first few minutes with both teams getting a few chances each. About six minutes in though it started to become apparent that the USA had the upper hand. The Slovakia squad seemed to be having a rough time trying to get it out of their own zone with the American pressure. The USA was given a power play about ten minutes in yet only got a couple shots off even though they had possession through most of it.
At 14:27 of the first period the United States drew first blood when a Slovakia player whiffed on a dump into the US zone. On the turnover Phil Kessel drove into the Slovak zone executed a beautiful drop pass to John Carlson who past the goalie Halak to make it 1-0 USA.
The beginning of the second period however would start to challenge the status quo for the United States squad. A bad turnover at their own blue line allowed Tomas Tatar to have a wide open look at the net and past Jonathan Quick. It was just 24 seconds into the second period and suddenly the game was tied 1-1. We could only hope that this would wake up the sleeping giant USA team.
That Slovak goal did seem to wake up the United States team as it was just over a minute later when they answered back with a goal of their own. Patrick Kane was keeping the play going in the offensive zone when Ryan Kesler joined the play. Kane feed the puck up to the top of the circle, where Kesler was waiting for a one timer which he then the left side of Halak to put the USA back on top 2-1.
Not even a minute later the USA would start piling them on. Another bad turnover at the blue line, this time by the Slovak's would let T.J. Oshie drive to the net. He fed a pass across the front to Pacioretty who took a shot which was saved by Halak. However, he was unable to control the rebound which came right to an unchecked Paul Statsny who was able to tap it into the and put the USA up two goals at 3-1.
We were not even to the halfway point in the period when the American's would add yet another. Just after a power play had ended there was a mad scramble in front of the net leading to a Kessel pass getting thrown towards the front of the net for David Backes to . That goal made it 4-1 and gave Kessel his second assist of the game. Team USA just could not help themselves from scoring either. Just five minutes later a great centering pass from Shattenkirk to Paul Statsny lead to the puck through his 5 hole to make the game 5-1 for the United States. This lead to Halak being pulled in favor of Budaj for the Slovak's.
You would think being up 5-1 would lead to the United States slowing down a bit, however you would be wrong. Goal differential could prove key in determining who could get that last automatic bye if you don't get earn the one for winning your group. So, they continued to pour it on. A long lead pass from VanRiemsdyk to Kesler sprung the forward into the Slovak goal. He then executed a drop pass to Phil Kessel who then to his two assists in this game.
Just a minute later they would add yet another goal to the differential. While cycling the zone up high Kane made a pass to Carlson along the right half boards. After corralling the pass from Kane Carlson was able to center it right onto the tap of Dustin Brown who was able to immediately and into the left side of the net making the score a seemingly impossible to over come 7-1 in favor of the United States team. Which is how the 2nd period and the game would end.
Team USA Point Leaders
Phil Kessel - 1 goal, 2 assists
Paul Stastny - 2 goals
John Carlson - 1 goal, 1 assist
Ryan Kesler - 1 goal, 1 assist
Patrick Kane - 2 assists
T.J. Oshie - 2 assists
James Van Riemsdyk - 2 assists
Jonathan Quick who many were surprised to hear was starting faced 22 shots and only allowed one goal. In total 11 USA team members earned at least a point. However, you can't take this huge win and rest on your laurels if you are this United States team. The biggest game of the group stage looms in just two days when they will play Russia for what will most likely be the game that determines who gets the automatic bye from this group.
Overall a well played game by this United States team and a fun one to watch if you are a fan of them. Hopefully they can keep up this effort going forward as they work their way towards a gold medal.
Credit for the gifs go to CrzyCanucklehed

Note, Scores and more info can be found at our Scoreboard!

From a Slovak's Perspective

Article written by Casey Courtright - Community Contributor

BRUTAL opening to the tournament for Team Slovakia today against the United States. After competing in the first period, the roof fell in as the US scored 6 unanswered goals en route to a 7-1 romp to open the tournament.

The first period was rather uneventful, the US dominating the possession game. Late in the period, Tomas Marcinko took an interference penalty, but the Slovaks killed that easily. Right after that, Milan Bartovic fanned on an attempted dump-in and James van Riemsdyk sent one the other way to Phil Kessel. Kessel drop passed to John Carlson, whose laser beat Jaroslav Halak blocker side.

The second was a total disaster for the Slovaks despite an okay start. In the first minute, Tomas Tatar banked an absolute bullet off the post and past Jonathan Quick for a tying goal. American fans and media complained that the goal was offside, but it counted nonetheless. However, right afterwards, Patrick Kane fed Ryan Kesler for a bomb from the top of the circle and the Slovaks never recovered. The States would score five in a row after taking the lead (including a pair by Paul Stastny and his even-worse-than-Kessel awkward pictures), and after the 4th goal Peter Budaj came in, only to allow goals on his first two shots against.

Also worrying is Tomas Marcinko and Michal Handzus leeaving the game early due to injury. All in all, it was a disaster for Slovakia and they'll need a big rebound on Friday against Slovenia (who fell 5-2 to Russia).

What I liked

Tomas Tatar played very, very well and had the only goal. That's about it.

What I didn't like

D-zone coverage and goalkeeping. Both were best described in a word Bobby Ryan could actually spell: B-R-U-T-A-L. The offense wasn't too too bad, but Richard Panik had at least two big opportunities that he couldn't finish on. Not to mention the play was just flat-out sloppy and the Slovaks were regularly losing puck battles.

Final Thoughts

Team Slovakia can't throw a pity party after this game. Friday morning they'll take on Slovenia, and it will be interesting to see how they respond to adversity. If they can't rebound against Slovenia, they're in some serious trouble.